The pictures from our very first Fashion Show can be viewed in the slideshow below. We had 26 models in the Fashion Show and had a blast looking at the large variety of garments, handbags and quilts. Twelve models used a pattern from the ASG National Anyone Can Win contest and their pictures will be entered into the contest.
Thank you Sheryl and Melanie for organizing this fabulous Fashion Show, and thank you Ann and Melanie for the beautiful pictures!
Anyone Can Sew Fashion Show and Pot Luck Brunch! Date: Saturday, June 22, 2013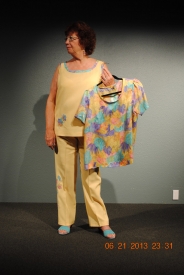 If you're in one of the pictures and would like to receive the picture in high resolution, please send me an email.